Referendum offers possibility of change for Bougainville's atolls
Communities on Bougainville's atolls hope the upcoming independence referendum is an impetus for improved services to the remote islands.
A two-week polling period begins this Saturday for Bougainville's referendum on independence from Papua New Guinea.
The non-binding referendum is a provision of 2001's Bougainville Peace Agreement, which formally ended hostilities from a civil war which raged through the 1990s.
Sione Paasia, an aviation consultant who hails from Takuu atoll (also known as Mortlock), says all of Bougainville has suffered from neglect of public services since the civil war.
He says that for people of Bougainville's atolls, their biggest need is for more frequent shipping services.
On average a ship comes by only about five or six times a year, he says.
"And that makes it hard for a lot of things, including economic activities, including health and education services especially.
"So as a result there's been a huge urban drift from the atolls to Buka and a lot of other parts of PNG."
According to Mr Paasia, he is one of about 1600 Takuus who left their atoll in search of opportunity and are now scattered around PNG and other parts of the world.
He's been told there's less than 400 people left on Takuu itself.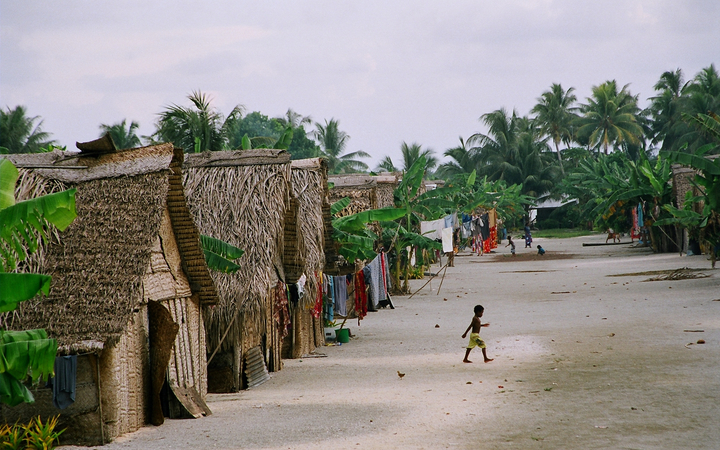 Nukutoa village, Takuu. Photo: Briar March
The Bougainville Referendum Commission has gone to significant lengths to enrol people of Bougainville's atolls to participate in the vote.
The islanders see the referendum as a potential step towards restoring some of the cohesiveness that Bougainville's economy and public services had before the civil war.
Apart from the Panguna copper mine, which was central to sparking the crisis, the Bougainville economy had been been under-pinned by agriculture, especially based on thriving cocoa and coconut plantations which have still not recovered.
And Mr Paasia says that Bougvainville has another valuable resource – good leaders.
"I believe the reason why we did so well back then was that we had leaders who had convictions and who were not involved in self-interest. They were focussed on what we need to do for Bougainville," he says.
"Natural resources don't necessarily make a country prosper, unless you have good leaders.
"Suffering tends to change people," Mr Paasia says, adding that he feels there are now more people who seek benefit without putting in the hard work.
It didn't help Bougainville that widespread destruction of its public infrastructure, and the lasting trauma of armed conflict, robbed multiple generations of access to education.
"Today there's a lot of opportunists out there, and I think it's been driven by this mindset – which we have probably borrowed from the rest of PNG of handouts," Mr Paasia says.
In his view, the upcoming vote for independence or greater autonomy offers a chance to change this.
"PNG will be a better country if Bougainville becomes independent."
He believes Bougainville and PNG can co-exist harmoniously and prosper in partnership.
"As long as we identify the right leaders who are progressive and have that mindset and integrity to lead Bougainville post-2020.
"There's a lot of good Bougainvillean leaders out there who are yet to step up onto that platform of leadership. And if we can get those leaders in there, we'll turn Bougainville around and we'll turn the services to the atolls around as well."
Source: RNZ
from WordPress https://ift.tt/34afxmK
via
IFTTT
November 19, 2019 at 07:46PM